The Green Lantern Corps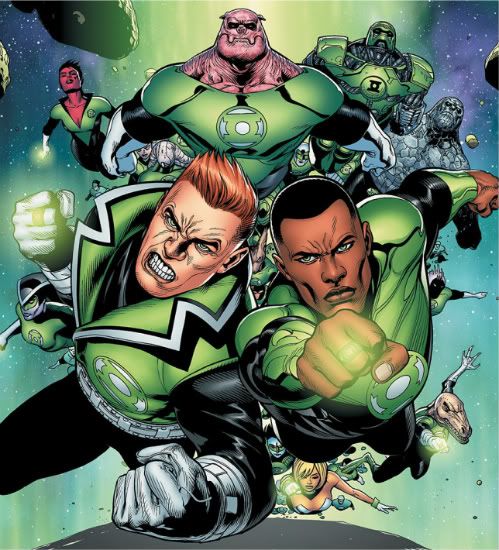 The Guardians of the Universe are one of the oldest and wisest races in known history. Realizing that the universe needed order and protection, they created the Green Lantern Corps. Armed with power rings that allow them to control the green light of willpower, the Green Lantern Corps has become one of the most powerful entities in existence. There are currently 7,200 Green Lanterns patrolling the 3,600 charted sectors of space (two Lanterns per sector), with more being added as the universe is explored further.
The Green Lantern Corps is stationed on the planet Oa at the center of the universe. On Oa they have a training program, living quarters, Sciencell prisons, the revered Book of Oa, the Guardians themselves and the Central Power Battery. The Lanterns have needed these resources as they've been put to the test against the greatest evils in the universe, including an all-out war with the dead Black Lanterns and the unstoppable Third Army.
The Green Lantern Corps oath is as follows: "In brightest day, in blackest night, no evil shall escape my sight. Let those who worship evil's might beware my power... Green Lantern's Light!"

Leader:
John Stewart of Sector 2814

Head Lanterns:
Salakk of Sector 1418
Kilowog of Sector 674

Members:
Hannu of Sector 2
Naut Le Koi of Sector 12
Larvox of Sector 17
Shorm of Sector 40
Ghrelk of Sector 69
Sendrina of Sector 73
Jruk of Sector 82
Malet Dasim of Sector 103
Ghr'll of Sector 151
Xylpth of Sector 151
Qurina Vint of Sector 282
Ash-Pak-Glif of Sector 312
Volk of Sector 315
Cherniss of Sector 344
Procanon Kaa of Sector 422
Graf Toren of Sector 424
Vode-M of Sector 424
Gorin-Sunn of Sector 563
Iath of Sector 563
Rees-Van of Sector 567
Voz of Sector 571
Morro of Sector 666
Von Daggle of Sector 700
R'amey Holl of Sector 700
Turytt of Sector 786
Brik of Sector 904
Nemux of Sector 1006
B'dg of Sector 1014
Two-Six of Sector 916
Gazzl of Sector 1122
Sheriff Mardin of Sector 1253
Penelops of Sector 1355
Soranik Natu of Sector 1417
Iolande of Sector 1417
Eddore of Sector 1419
Maro of Sector 1632
Perdoo of Sector 2234
Mogo of Sector 2261
Feska of Sector 2525
Vath Sarn of Sector 2682
Isamot Kol of Sector 2682
Tomar-Tu of Sector 2813
Hal Jordan of Sector 2814
Guy Gardner of Sector 2814
Kyle Rayner of Sector 2814
Simon Baz of Sector 2814
Jessica Cruz of Sector 2814
Arisia of Sector 2815
Gorish of Sector 2820
Stel of Sector 3009
Barreer Wot of Sector 3014
Lok Neboora of Sector 3014
Torquemada of Sector 3521
G'nort
Swixxle of Sector ???
Aldo of Sector ???
Mukmuk of Sector ???
B'ox of Sector ???
Hwaal of Sector ???

Supporting Cast:
The Guardians of the Universe

Former Members:
Varix of Sector 69
Relok Hag of Sector 173
Horoq Nnot of Sector 785
Ergann of Sector 1234
Boodikka of Sector 2814
Sinestro of Sector 1417
Green Man of Sector 2828
Oliversity of Sector 2111
Vandor of Sector 3212